Trailblazing Beyond The Classroom
The Educational Foundation is fundraising to support the district's partnership with the Schlitz Audubon Nature Center to offer students programming that will enrich their connections to the natural environment and give them the physical and mental benefits only the great outdoors can provide. Our new campaign, Trailblazing Beyond the Classroom, aims to raise $45,000 during the 2022-2023 school year.
The money raised will be used for immersive programming that covers everything in nature from plants and soils, to lakes and rivers, to animals and insects. All district students K4 - 8th grade will take part in three Schlitz Audubon activities, programmed to build year over year. Students will canoe, meet eagles, explore ponds and more as they connect math, science and traditional academics to the outdoors in this world-class nature center, right in our backyard.
Funds will also be used to support an inclusive education program offered by The Ability Center, which will teach adaptive physical education at Stormonth and Bayside. Students of all abilities will "put on a different pair of shoes" to play wheelchair basketball and face other challenges in an effort to understand how everybody is capable regardless of different abilities. Additional funding will provide all 7th graders with the opportunity to attend the Courage Retreat, a popular Youth Frontiers program aimed at empowering kids to make positive choices.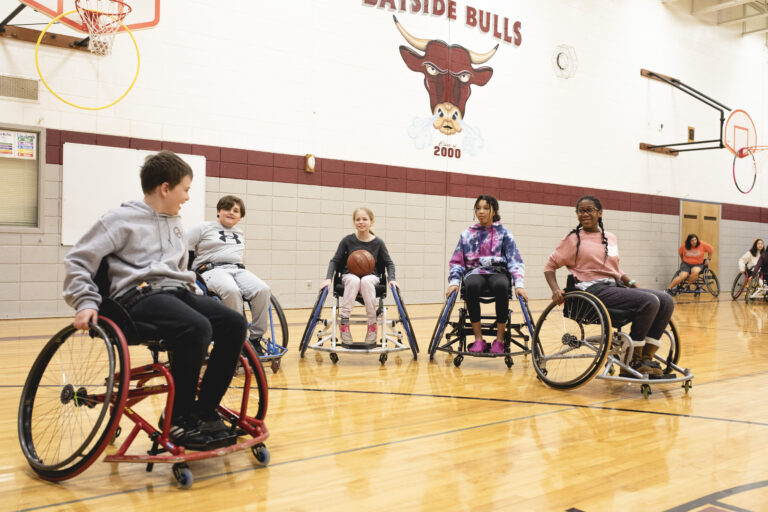 Our fundraising efforts are only successful because of the generosity of
families, neighbors and businesses.
Here's how you can help:
All donations are tax deductible.
Online
Donate in any amount online via PayPal here
Please note that all donations made here will be unrestricted as the playground project is complete.
By Mail
Mail checks payable to the Fox Point-Bayside Educational Foundation to
7300 N Lombardy Rd.
Fox Point, WI 53217