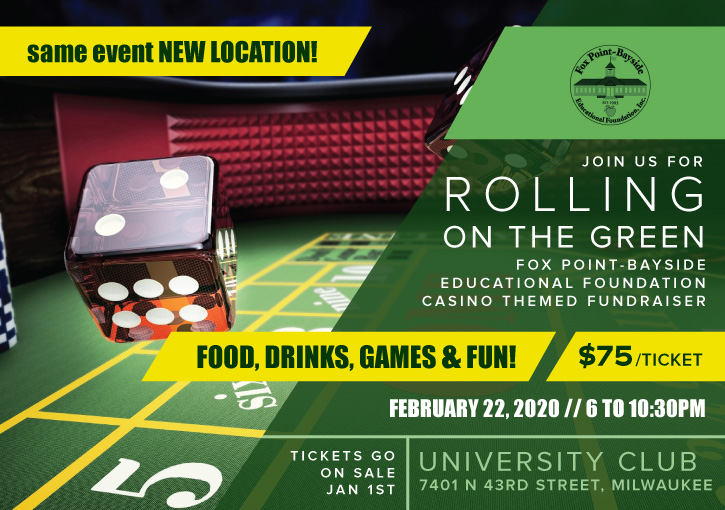 Our annual fundraiser, Rolling on the River got a slightly new name this year.  It is now Rolling on the Green.
The new name reflects the new location at the University Club (7401 N 43rd Street, Milwaukee).
The University Club is a golf course and since our casino-themed events also have green felt, we thought the name change was fitting.
Sadly, since our event is held in the middle of midwestern winter, the only green that will be used during the event is on the casino tables.  But a putting champion contest is in the works.
This event, under whatever name, is the Educational Foundation biggest fundraiser of the year.
The foundation only has two shots at raising funds toward its ambitious annual goals: an annual appeal that mailed in December 2019, and this casino-themed event.
Hosting an event such as this makes raising money for the district's initiatives fun and brings together our school's families and friends.
Event details:
Date: Saturday, Feb. 22, 2020
Time: 6 PM – 10:30 PM
Location: University Club, 7401 N 43rd Street, Milwaukee
Tickets are $75 per person and are available here.
If you can't make it, please consider making a donation in lieu of attending!  You can do that here.
And new this year, we are collecting donations to cover the cost of our beloved teachers to attend and enjoy the event. Make your donation here.