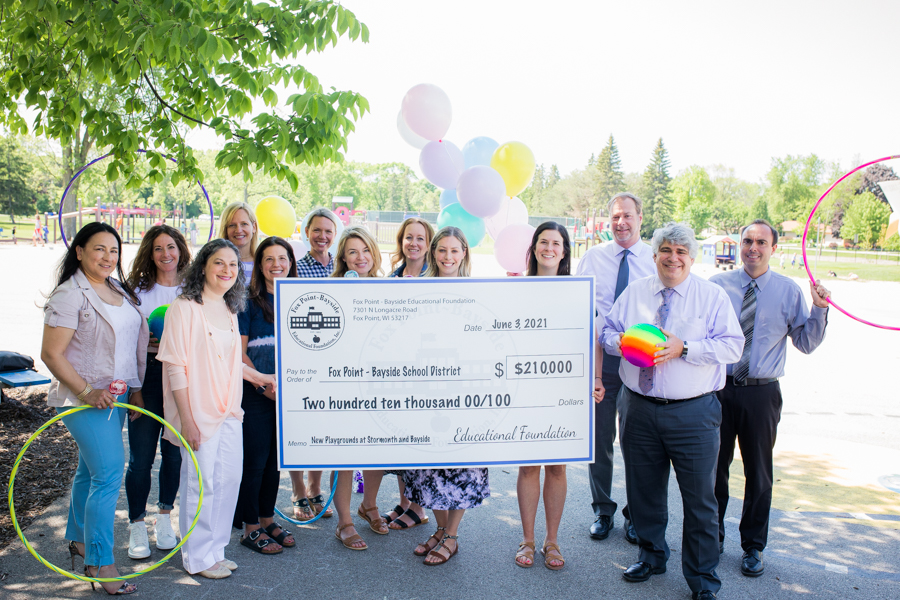 The Educational Foundation Board, joined by special donors, presented a check for $210,000 for ADA-accessible playgrounds at Stormonth and Bayside.
These funds cover nearly half of the total cost, establishing the community's first ADA-accessible playgrounds at both Stormonth and Bayside schools.  
The success of the Reimagining Recess (2019-2020) and Leveling the Playing Field (2020-2021) campaigns was possible due to tremendous community support and generous donations and sponsorships. 
The Foundation Board is grateful to all those who enthusiastically supported the campaigns. Families and businesses that donated at the $500 level and above across the two years of fundraising will be recognized on the playgrounds for their support.  
Additionally, the Foundation supplemented the growth of its previous endeavors, Makerspace at Bayside and the S.T.O.R.M. at Stormonth, by providing funding to purchase items on the growing educator wish lists for these spaces.  
While efforts to support District projects and commitments continued, the Foundation was able to invest in its own long-term success as well.  This spring, the Foundation invested enough reserves to fully fund a $100,000 endowment that was established in 2015.  The Foundation will use endowment earnings for a new District educator grant program beginning this fall.  
Stay tuned for news about the next campaign to support the District's needs and enduring projects.  Please visit the website, www.fpbedfoundation.org, for more information and content outlining successful endeavors thus far and future efforts.  
The Board resumes its monthly meetings this fall.  Email questions or interest in Foundation involvement to fpbedfound@gmail.com.